Why consumers are clamoring for real foods and how to offer what they want.
I
t used to be that low-fat, no-sugar and fat-free were all the rage with consumers. But increasingly people are interested in eating whole, unmodified foods with natural ingredients. There's a desire to know where their food comes from and that it's good for them. In fact, 51 percent of adults 18-34 say their definition of healthy food items has changed.1  A lot of this stems from the rise in food allergies, including dairy and gluten free and just an overall healthier lifestyle. Not to mention the abundance of choices people have at their fingertips for almost any fresh food they want.

 

And the food industry is adapting to this trend. Here's how you can take advantage and stock your establishment with real foods that customers crave and are willing to pay for.
Discover the Health Halo
Traditional definitions of healthy still apply (low fat, low sugar, high protein), but there's a move to embracing words like clean, all natural, unprocessed, fresh and additive free.1 Consumers want to feel like what they put in their body is the freshest it can be and look for words on packaging and menus to reaffirm this. Offering up items like Sabra® hummus is a great way to attract health-minded consumers. Not only is it gluten-free, it's also non-GMO and made with limited ingredients. And hummus itself is still a very popular dip for those wanting better-for-you options to traditional dips and spreads. Recipes that include hummus, considered a healthy fat, also tend to score well with consumers and because it's vegetarian, is open to a wider audience. Consider adding these to your menu: Vegetable Flatbread or Grilled Vegetable Hummus Pita Pizza , which use hummus to create healthier, more flavorful dishes.
Less is More
As consumers become savvier and more aware of what they're eating, they are likely to be turned off when they read a label with 50 ingredients. In this instance, less is more. They seek out limited ingredients and those they can pronounce and recognize. Quaker® Steel Cuts Oats has just one ingredient—oats. So it's the perfect stand alone breakfast or can be used in a recipe to create even more bang for your buck. And Quaker Grits contain just grits and vitamins. Frito-Lay Nut Harvest® packs contain just nuts and dried fruit, the perfect filling, pick-me-up. When crafting menu items, the same rules apply. Don't feel like you need to include an everything-but-the-kitchen-sink mentality. Recipes with a few real ingredients will not only be easier for you to create and serve, they are more likely to get selected by health-minded customers.
Don't feel like you need to include an everything-but-the-kitchen-sink mentality.
Start with a Healthier Breakfast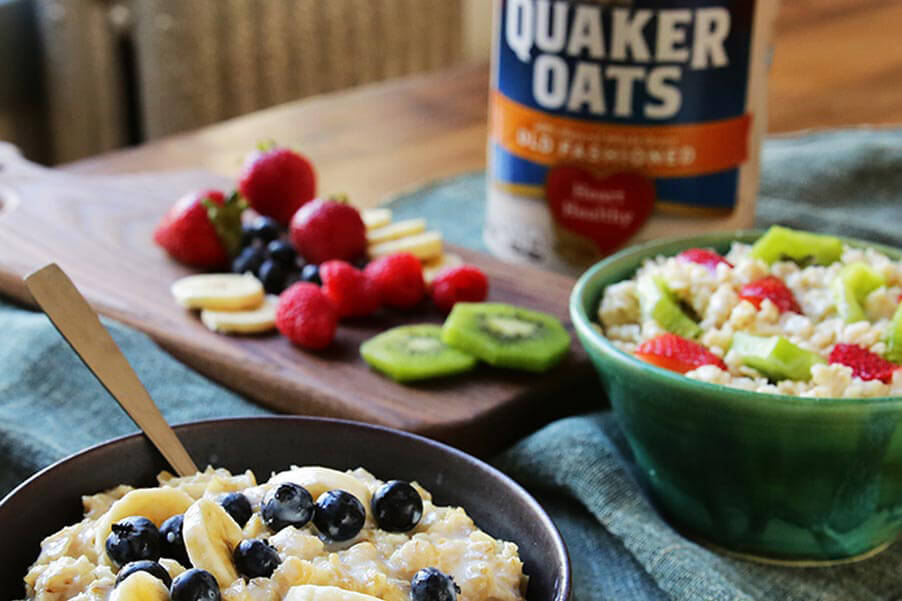 Despite all this effort into wanting to eat better, research shows that consumers start off with a healthy breakfast but typically indulge, specifically with snacks, as the day goes on.
1
So creating breakfast options with real food, like whole grains, farm fresh eggs, yogurt, avocado and fresh fruits and vegetables, will appeal to those wanting to start their day off right. Recipes made with
Quaker
Oats like
Mango Strawberry Overnight Oats
,
Tropical Oatmeal
, and
Super Berry Almond Crunch Bowl
, satisfy hunger and healthier taste buds. To simplify things, consider selling ready-made, hard-boiled eggs and fruit like apples and bananas which are easily grabbed on the go.
The appeal of real shows no signs of slowing down and all signs indicate that this trend will be ramping up even more for years to come. And while consumers admit to not being perfect, they still desire places that offer healthier options even if they don't choose them.
1
So creating a diverse and more healthful offering on your menu or in your establishment is the best bet to attract and retain this loyal following.
1 2016 Technomic Inc., Healthy Eating Consumer Trend Report