Rated 0 out of five stars
0 total reviews
Hummus Oasis
Let your taste buds escape with this fresh crab cocktail.
Total Time: 15 minutes
Prep: 15 minutes
Servings: 4 servings
Ingredients
SABRA® Classic Hummus, divided

1/2 cup

SABRA® Spicy Guacamole, divided

1/4 cup

Lump crab meat, divided

1/2 cup

Microgreens

1/2 cup

Fresh lemon juice

2 tsp

Salt

pinch

Bloody Mary mix or spicy tomato juice

2/3 cup

Olive oil

2 tsp

Vodka, very chilled (optional)

4 shots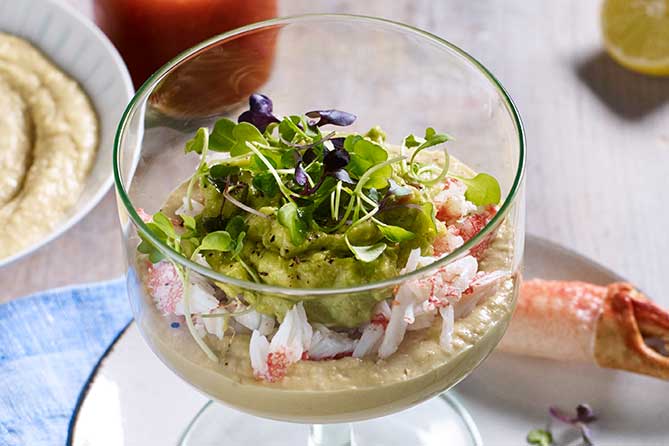 Directions
Place 2 tablespoons of SABRA® hummus in the bottom of each martini glass.
Top with 2 tablespoons of lump crab meat. Place guacamole on top of crab.
Toss microgreens lemon juice and olive oil together. Place on top of guacamole.
Pour Bloody Mary Mix around salad creating a moat. Pour float of optional vodka over Bloody Mary mix. Serve immediately.
There's no way to spin this. We're sorry for taking so long!