Make Beverages a Mini Vacation
W hen winter turns down the temperature, many people start escaping to warm, tropical destinations like Aruba, Maui, and Los Cabos. And who could blame them? Sunshine, breezy beaches, and fruity beverages create a warm welcome that make just about everyone want to head for the palm trees.
For most people, however, a beach vacation during the winter months is more of a daydream. Beyond travel challenges like frequent flight cancellations, inflation has many consumers looking to limit big spends. Foods and beverages reminiscent of tropical travels help simulate the feel of a getaway and serve as a more affordable reminder of the warmer weather they crave.
Time for the Tropics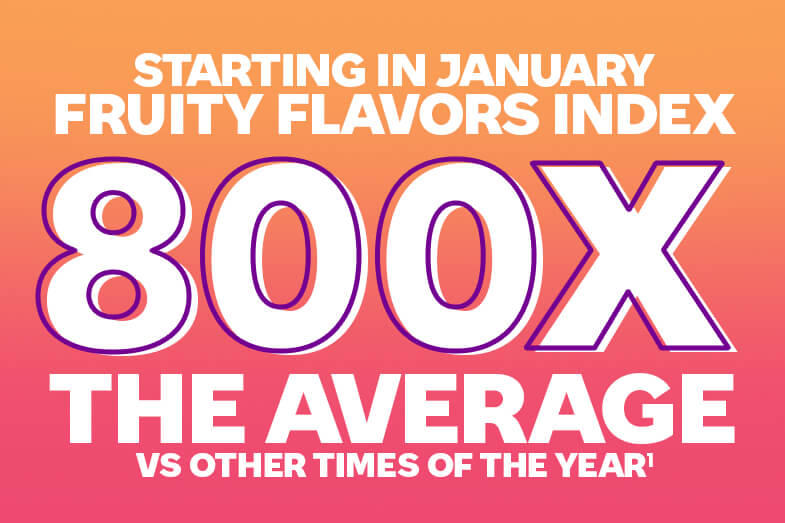 The power of flavor helps consumers create the type of feeling they want to embrace in any particular moment. Think about the popularity of cozy flavors like cinnamon, pumpkin spice, nutmeg, and peppermint candy cane when colder weather hits in November and December. Starting in January, consumers begin to crave tropical flavors like lemon, strawberry, guava, passion fruit and coconut. In the winter, these seasonal flavors index at 800 times the average vs other times of the year.1
More Than a Beverage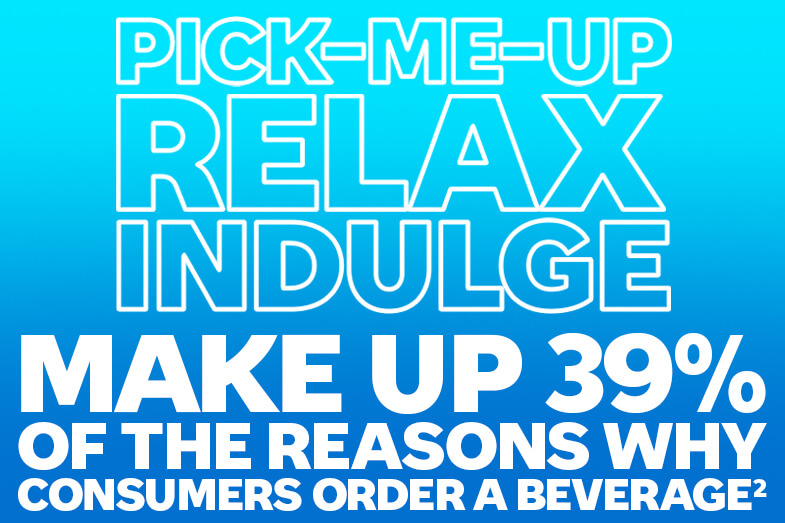 At first glance, a beverage may be thought of as functional—a necessity for hydration, replenishment, or even just an expected accompaniment to a meal. When people dine out, though, they often think of beverages as a way to satisfy an emotional need. A "pick-me-up," a way to "relax" and "indulge" make up 39% of reasons why consumers order a beverage.2
Tend to the Trends
Thinking about what kind of seasonal beverages to add to the menu might be as simple as dreaming about what you'd like to drink on vacation. According to the Datassential Seasonal Report for 2022, horchata, craft sodas, pineapple juice, limeade, and lemonades flavored with strawberry or mango are the top seasonal beverages featured in the new year. Top seasonal flavors include guava, passion fruit, and dragon fruit. Ready-to-serve beverages like bubly™ Coconut Pineapple and bubly bounce™ Mango Passionfruit make it easy to instantly offer up tropical trends, along with unexpected flavors from CELSIUS® Energy such as Fantasy Vibe (Sparkling Mandarin Marshmallow), Tropical Vibe (Sparkling Starfruit Pineapple) and classic combinations like Lemon Lime. Iced teas like Pure Leaf® Subtly Sweet & Unsweet offer varieties with a splash of Lemon or Peach flavors while unsweetened varieties allow for signature seasonal additions from purees or housemade syrups.
Looking for recipe inspiration? You don't have to go far. Just take a look at our recipes page for beverages featuring tropical trends and summertime menu vibes including:
Wannagetaway, a mocktail with the flavors of bubly™ Raspberry, lychee, guava, and orange juice
Tropic Like It's Hot, a cocktail made with bubly™ Peach and enhanced with peach, passionfruit, orange blossom flavors
Bubly Picante Paloma, a cocktail featuring bubly™ Grapefruit, jalapeño, tequila, triple sec, and lime
Here's to many delicious getaways!
Sources:
1Datassential 2022; Seasonality in Dishes, Ingredients, Flavors
2Technomic AFH; Beverage Navigator 2021 Study