Rated 0 out of five stars
0 total reviews
S'mores Treats with ROLD GOLD® Pretzels
Upgrade the ultimate gooey campfire treat with a touch of salt and crunch.
Ingredients
ROLD GOLD&reg Tiny Twists Pretzels

12 cups

Butter, unsalted

3 tbsp

Mini marshmallows

6 cups

Pretzel salt

1 tsp

Mini chocolate chips

1 1/4 cup

Mini marshmallows for topping

2 cups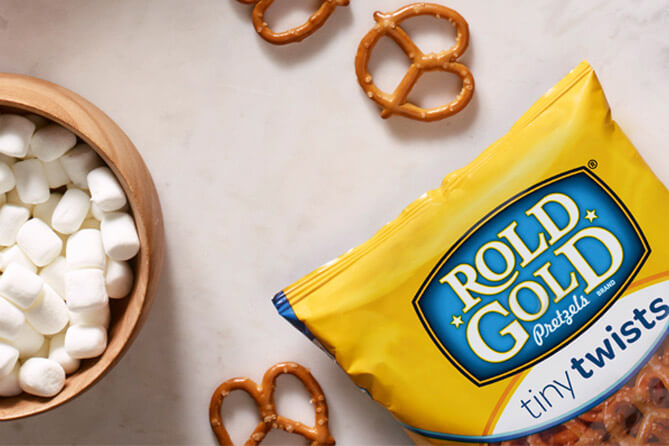 Directions
Combine butter and marshmallows in a 6 quart sauce pan until totally melted and smooth like fluff.
Cook marshmallows for 1 minute after they have completely melted.
Add 12 cups pretzels and pretzel salt and stir gently with a rubber spatula over a very low flame. Gently press contents of pot into a well-greased half hotel pan lined with parchment and allow to set up.
Before serving sprinkle evenly with chocolate chips and marshmallows for topping then toast gently under a broiler until marshmallows begin to turn golden.
Allow to completely cool before cutting.
There's no way to spin this. We're sorry for taking so long!