Rated 0 out of five stars
0 total reviews
Chipotle Ranch Burger made with LAY'S® Kettle Cooked Potato Chips
Add a touch of tang to your burger with chipotle-ranch sauce and top it with some kettle cooked chips for crunch.
Ingredients
Cilantro

1 tbsp

Pepper, Chipotle chilies in adobo sauce

1 pureed

Lime juice

1 tsp

LAY'S® ranch dip

1 jar

LAY'S® Kettle Cooked Potato Chips

3/4 ounce (wt.)

Hamburger bun, buttered & toasted

1 each

Iceberg lettuce

1/4 cup

80/20 beef patty, cooked to liking

1 each

Beefsteak tomato

1

Red onion

1 slice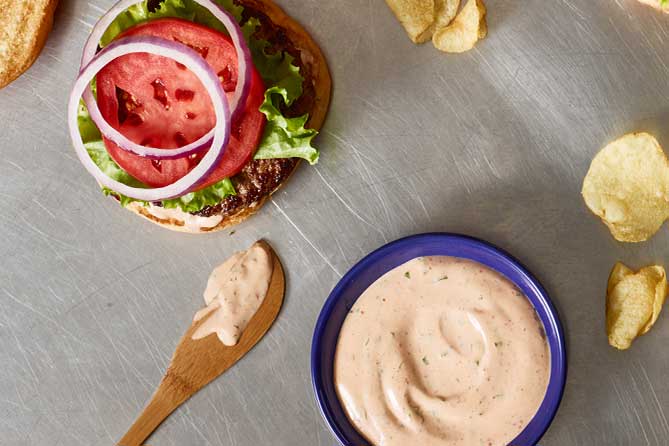 Directions
Chipotle Ranch Mayo: mix the ranch dip, pepper, cilantro and lime juice together.
Build burger: bottom bun, 1/2 tablespoon chipotle ranch mayo, beef patty, lettuce, tomato, onion, LAY'S® Kettle Cooked Potato Chips and the top bun with the rest of the chipotle ranch mayo. Serve immediately.
There's no way to spin this. We're sorry for taking so long!