In the next coming weeks, restaurants and bars across the nation are either anticipating or already have reopened their doors to consumers ready to dine-in. While the majority of Americans will likely continue ordering take-out or delivery, 39% of consumers are considering dining in immediately when restaurants reopen1.

Sanitization and safety is top of mind for both consumers and operators. To prepare, restaurants should take their cleaning and sanitation to another level to keep consumers and employees safe. Here are some tips and best practices to be aware of as you open up.
Take a fresh look at your front-of-house to see what can be optimized for less touch.
Keep all tables at least six feet apart.
Make sure dispensers, cups, utensils, etc., are set up to allow for proper social distancing. If they can't be placed 6 feet apart, provide distance makers on the floor to ensure guests stay apart while taking turns.
If your operation requires dispensing cups and utensils, utilize systems or setups that prevent unnecessary touching by guests.
Provide markers in waiting areas that keep guests 6 feet apart or encourage them to wait in their cars or outside until their tables are ready, if applicable.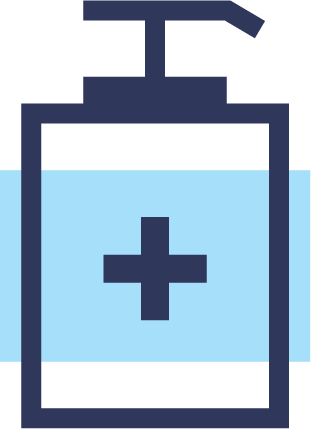 Sanitizing in foodservice operations is nothing new, but this new situation calls for extra cleaning of all touch surfaces. Here's a list of the ones that need special attention throughout an operation.
Dining rooms and lobby areas:

Door handles, push plates, thresholds, and hand railings
Dining tables
Chairs and booths
Menus and bill folders
Trash receptacle touchpoints
High chairs
Bar area

Restrooms:

Door handles
Sink faucets and toilet handles
Towel dispenser handles
Soap dispenser push plates
Baby changing station
Trash receptable touchpoints

Back of house:

Door handles and push plates
Handles of all the equipment and doors and operation push pads
Handles of the dispensers (beverage, etc.)
Ice scoops
Walk-in and other refrigerator handles
Walk-in refrigerator and plastic freezer curtains
Freezer handles
3-compartment sink and mop sink
Handwashing sink handles
Soap dispenser push plates at handwash sink
Towel dispenser handle at handwash sink
Trash receptacle touchpoints
Cleaning tools
Buckets
Telephone keypad and handset
Manager's computer
Equally as important as making sure you're sanitizing properly is letting your guests know what you're doing to keep staff and visitors safe. As Mandy Sedlak, food safety and public health manager for Ecolab's Ecosure division, has said, "Guests will not only expect to 'be safe,' they will want to 'see safe.'"2
Share your practices on your social media, website, and operation app (if applicable).
Provide signage in your operation and on exterior windows letting guests know of your sanitation standards.
In restrooms, provide reminders about washing hands and social distancing.
Provide hygienic materials such as tissues and hand sanitizer stations.
If requiring all employees to wear mask and gloves, be sure to communicate this via social media and signage—making people safe before they enter is critical.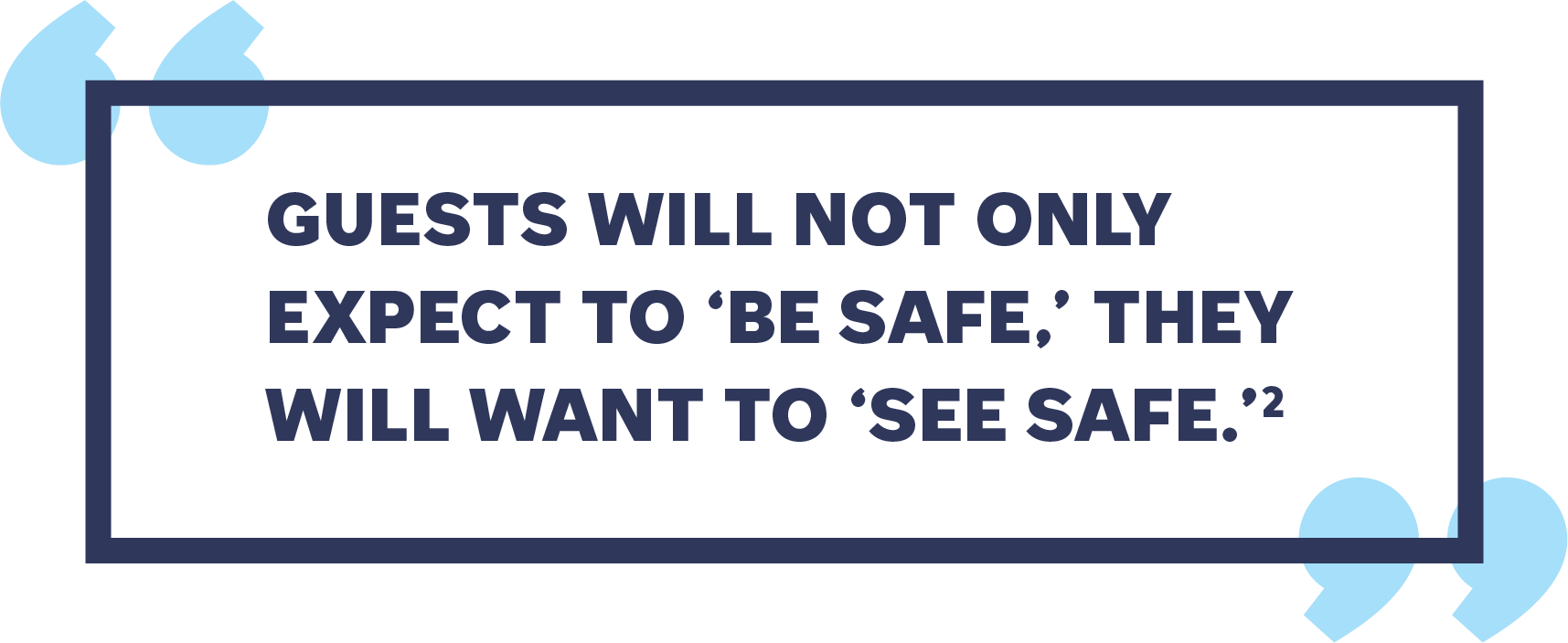 The new normal is going to require diligence in paying attention to sanitation and safety just as much as what's on the menu. The PepsiCo Foodservice team is here to help and support you through this unprecedented time, because we are stronger together. For additional information, visit the "Restart Tools" section of the COVID-19 Resources page.