Five tips on how your restaurant can snap out of the slump.

Not since 2009 has the restaurant industry seen such a grim outlook with declining sales and shop closures. High bills for gas, the cost of healthcare, rent and more expenses in general, are causing customers to become increasingly cautious about how they spend their money. The result is personal cuts on non-essential spending, which means consumers are opting to stay home and cook rather than go out. Lower food prices at the grocery store have also helped sway customers to home-cooked meals. This is coupled with the fact that many consumers today feel like restaurants aren't meeting their needs in terms of nutrition and value.

But there's hope! Restaurant owners and managers need to re-think how to deliver an enticing and enjoyable experience to their patrons and provide them with the best bang for their buck. Here are five ways to help heighten customer satisfaction and increase return visits to slide out of the restaurant slump.
Appeal to their Wallet
Eating out regularly can deeply impact a budget. It's often one of the first things people cut back on when they want to save money. Thirty-nine percent of restaurant decliners say that prices at dining establishments are too high.
1
That's compounded by the fact that the average cost of a restaurant meal has risen 21 percent over the last decade. However, strategic pricing can help turn the tables and bring customers back.
First, offer deals to entice patrons to return on a regular basis. Combine a meal with a drink or snack item such as chips, popcorn or pretzels to add extra value. Offer one free item in combination with multiple items. This is particularly easy to do in quick service restaurants when you're selling multiple items such as burgers, baked goods or tacos. Give your customers a reason to buy more if they feel they're getting more out of their purchase. This tactic has helped many quick service restaurant chains to
increase sales and bring in higher traffic to their establishment.
Combine a meal with a drink or snack item such as chips, popcorn or pretzels to add extra value.
Make them Loyal
Loyalty programs can help solidify the customer-restaurant relationship and make your business a go-to meal choice. Fifty-seven percent of heavy buyers (people who eat at the same restaurant chain three times or more a week) say that a loyalty program would entice them to visit more.2 By implementing a loyalty program with an incentive such as a free dish or dessert after ten visits, you can provide value to your customer and keep them coming back for more.
Vary Portion Sizes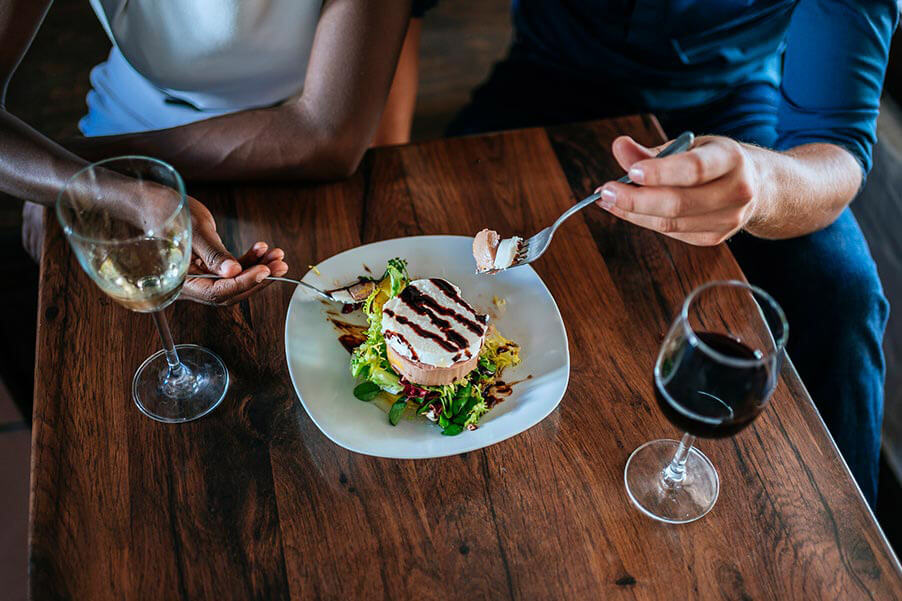 There's been a shift in eating habits in the U.S. and many adults today no longer eat three full meals a day. Grazing and snacking are becoming more popular and a great way to cater to this trend is to offer a variety of portion sizes. Half-sized orders, small plates or mini-desserts can provide options for all budgets and tastes.2 Lighter and smaller meals can be attractive to people watching their weight, groups looking for a shared food experience and millennials/Gen Z who think oversized portions went out with printed coupons.
Highlight the Healthy
Whether they're trying to lose or maintain weight, a whopping 66 percent of Americans are currently dieting.3 Overall, consumers aren't looking for a quick fix, they want to develop healthy eating habits for the long run. Help them achieve their goals by offering healthier items on your menu and educating consumers on how to make better choices. Highlight lighter food items and call out when something is made with whole grains, low salt or sugar, or with produce. Rather than saying something is diet or low-calorie — which has a negative connotation — point out fresh seasonal and whole foods to provide a balanced nutritional experience.
Drive Diners with Drinks
While dining out is decreasing in sales, on-premise alcohol sales are growing. Alcohol sales are projected to reach $118 billion in sales by 2020.
4
Americans are growing more accepting of drinking alcohol in various meal settings such as brunch. Millennials and Gen Z in particular, love to meet with friends over drinks and snackable appetizers as this correlates with their "grazing" lifestyle. In order to attract and retain younger customers, consider building an exciting bar menu, adding sharable appetizers, and promoting happy hour to help attract this age group.
With some creativity, a focus on the customer's needs, and some patience, your business can weather the recession and get back on track.
Alcohol sales are projected to reach $118 billion in sales by 2020.
1The NPD Group/CREST; Checkout TrackingSM Restaurant Re-contact Survey, September 2016: Bureau of Labor Statistics
2Restaurant Decision Making Process - U.S. - August 2016
3Mintel Diet Trends U.S., - September 2016
4Mintel, Restaurant Decision Making Process U.S., December 2016